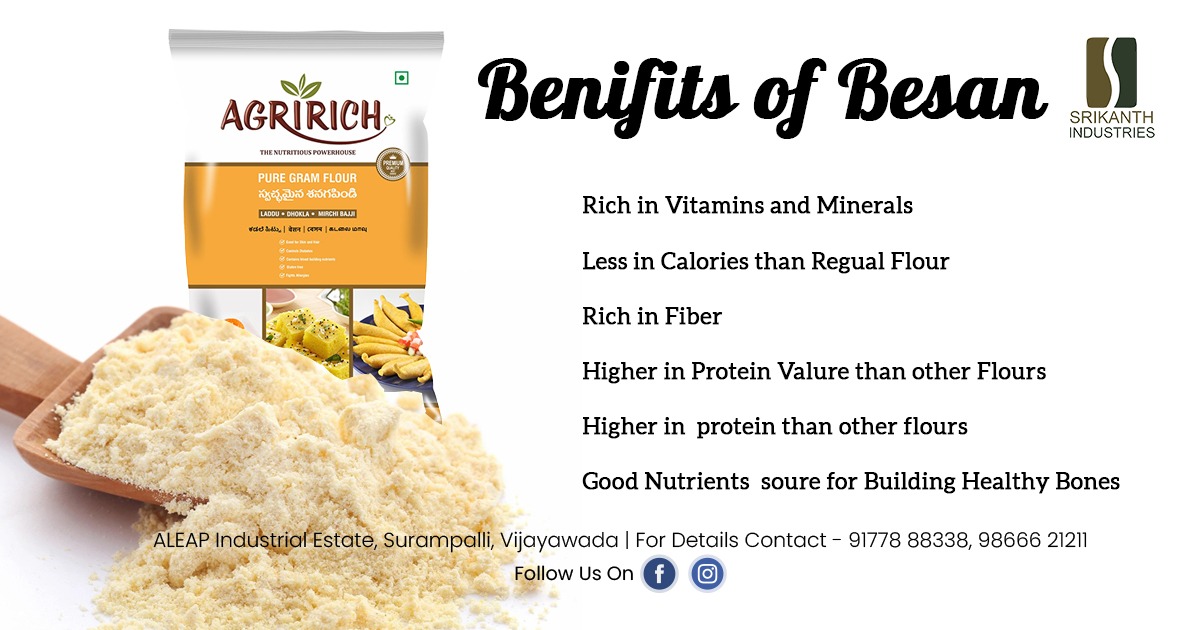 Health Benefits of Besan , or to put in English, Gram Flour, is one of the most commonly used staple flour around the whole households of India. It is generally made up of either powdered Bengal gram or chickpeas and is quite a versatile edible flour to use. It can easily be recognized with its yellow color and fine texture. 
But other than just being used as a food item, people all around the world have also adopted Besan as the main element of their face packs, and that is also because of many good reasons. Other than being a thing that anyone can eat, Besan is recently recognized as a superfood by bodybuilders and weight watchers all around the world. All thanks to its characteristic of being sans gluten. 
So, now that we know what Besan is, where it is used the most, along with a brief overview of the ways in which it is used, let's dive a little deeper and get to know about the various health benefits of Besan. 
Health benefits of Besan.
1. Provides Control in Blood Sugar
For better or worse, chickpeas are considered legumes due to their fiber content. But other than that, many researchers have shown Besan to consist of a low glycemic index. This refers to it not increasing the blood sugar of your body as soon as you consume it and this prevents one of the most common blood sugar diseases, type-2 diabetes. 
2. Better Blood Cells Production
Besan is one of the best sources of Iron for your body and Iron is the very mineral that is present for blood products in our body. So, if you want to prevent blood cell conditions, such as anemia, then Besan is your go-to food item. 
3. Keeps You Active
One of the best things about food with a low GI and a high fiber content is that they slow the digestive process of your body and hence, keep making your body work for a longer period. Due to this, your blood sugar level does not rise in a single go and fatigued does not get to set in and make you feel tired. 
4. Aids Digestion
Besan is mainly made of Bengal gram or chickpeas, which are plants, therefore, it consists of a good share of fiber. This fiber helps your digestive system to work properly and also aids your body to make stools that do not cause you any discomfort.
5. Gets Rid of Oily Skin
If you have got one of the skin types which just gets oily by itself, then Besan is the right element to choose for making your face pack. To make sure that your face is clear of any of these pimple-causing oil secretions, you can opt to use a face pack of Besan and milk. This is a great ancestral face pack that still shows good results. 
Conclusion
Besan is nonetheless one of the best superfoods out there and therefore, you must cooperate with it in your diet and skincare regime.Srikanthindustries offers you the best class products in the industry.