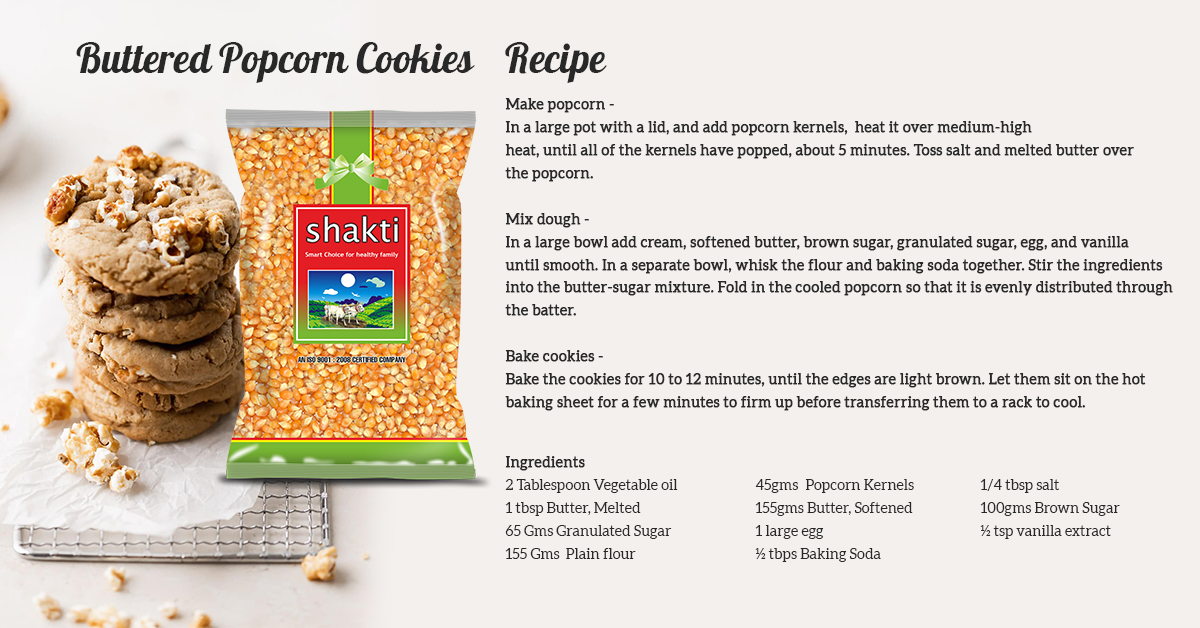 Cookies with popcorn? Trust me when I say that after you taste these Buttered Popcorn Cookies, you'll want to put popcorn in everything! They're deliciously buttery and chewy, and there are toffee bits mixed in with the popcorn!
INGREDIENTS FOR BUTTERED POPCORN COOKIES:
1 tablespoon vegetable oil
1/4 cup unpopped popcorn kernels, divided
2 sticks (1 cup) unsalted butter
2 1/4 cups all-purpose flour
1/2 teaspoon baking powder
1 cup granulated sugar
3/4 cup packed light brown sugar
3/4 teaspoon kosher salt
1/2 teaspoon baking soda
1 large egg
1 large egg yolk
1 tablespoon vanilla extract
Flaky salt (optional)
POP POPCORN IN THE BEST WAY
To make these popcorn cookies, you'll need to pop the popcorn first. If you're feeling very lazy, you can buy plain popcorn from the store.
However, popping popcorn on the stovetop is by far the simplest method.
Because these cookies only require a tiny amount of popcorn (just 3 cups), you'll only need about 2 tablespoons of kernels.
Popcorn is made by pouring canola oil into the bottom of a skillet over medium heat and then adding popcorn kernels.
When I hear the first kernel pop, I remove the pot from the heat and let it settle for a minute. After that, I return the pot to the heat and shake it about until all of the popcorn has popped. Easy!
I suggest placing 3 cups of popcorn in a bowl (a small quantity will be leftover… snack on it!) 1 Tbsp melted butter drizzled over it, with 14 tsp salt sprinkled on top
If you buy plain popcorn, don't forget to add the butter and salt!
Before incorporating the popcorn into the cookie dough, let it come to room temperature.
COOKIES WITH BUTTERED POPCORN INSTRUCTIONS
You're ready to prepare these buttered popcorn cookies now that your popcorn has been popped!
Two sticks of butter should be melted.
If you used the stovetop to pop your popcorn, wipe out the pot and add the butter. You don't want it to brown, so just melt it entirely – as soon as it starts to sizzle, you're done. Melting the butter gives the cookies a rich, chewy texture and makes the dough incredibly easy to work with.
Combine the ingredients for the dough.
Allow 30 minutes for the butter to cool in a heatproof mixing basin. Add the sugar, eggs, and vanilla once it's cool (but still melted! ), whisk until ribbony, and then toss in the flour mixture. It's fine if the dough is a little soft.
Bake once you've folded in the popcorn!
The fun part begins now: adding the popcorn! Fold it into the dough gently, softly crushing the bits with your spatula. It may appear that there is a lot of popcorn at first, but keep in mind that the popcorn is the star of this cookie, and the dough will spread out as it bakes. Bake until golden brown, portioning the dough onto baking pans and seasoning with flaky sea salt. Pair with your favorite movie!
NOTES ON THE RECIPE
Make-ahead: The cookie dough can be made up to 4 days ahead of time and stored tightly wrapped in plastic wrap in the refrigerator. Allow 15 minutes for the dough to come to room temperature before scooping.
The dough balls can be frozen solid on the baking sheet and then stored for up to 2 months in a freezer zip-top bag. When ready to bake, let the dough balls remain in a single layer on the baking sheet(s) for 1 hour before baking as recommended.
Storage: Baked cookies can be kept at room temperature for up to a week in an airtight container.