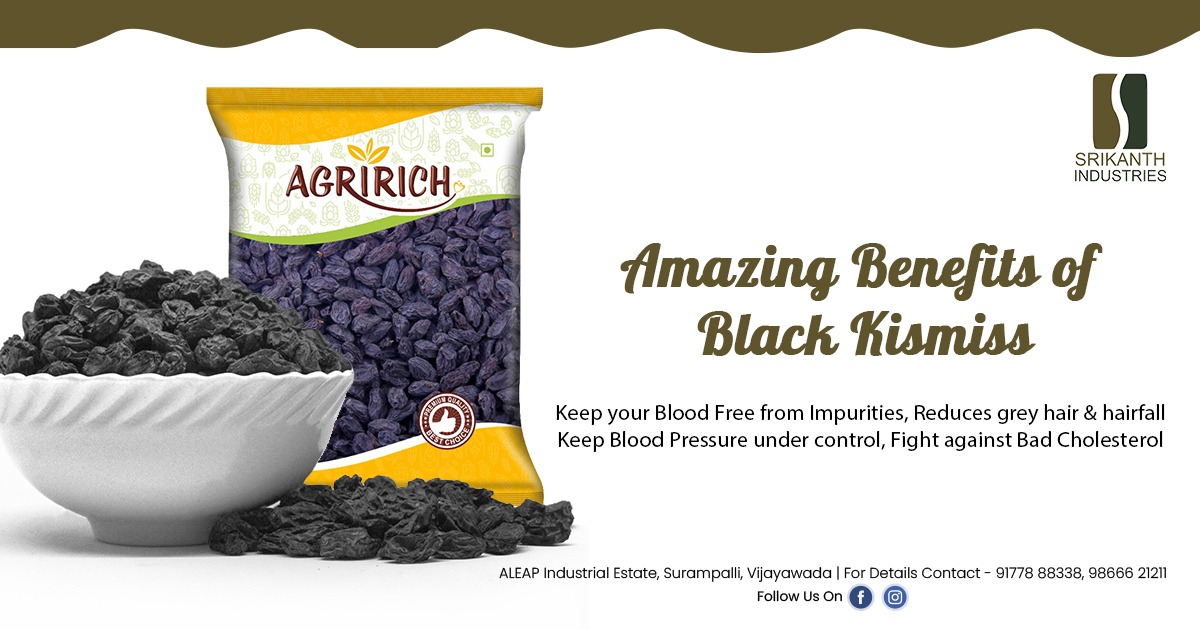 We all enjoy snacking occasionally to satiate moderate hunger pangs. The black raisin, also known as kali kishmish, is the ideal dry fruit to have as a snack during winter. It keeps your stomach full while still being nutritious. Black raisin ought to be a go-to for people who have started their weight loss journey. These aid in maintaining blood pressure and cholesterol levels.
Black Raisin: What Is It?
Black Corinth seedless grapes are dried in a dehydrator or under the sun to produce black raisins. Compared to other raisin kinds, they are deeper in color and have an acidic, sweet flavor. Black raisins can be used in salads as a garnish or blended into desserts and smoothies.
Do Black Raisins Have Any Health Benefits?
One of the healthiest foods you can eat is black raisins. They are rich in fruit sugars like fructose and glucose, which can satiate your appetite and lessen your cravings for food. These are known for boosting immunity as well. Black raisins can keep your digestive system in good shape and prevent constipation.
The top 10 amazing benefits of dry black raisins for health, skin, and hair are listed below. Let's look at them now.
Treats Anemia:
Black raisins have a good amount of iron, which improves blood levels of hemoglobin and effectively treats anemia. You can fulfill your body's daily need for iron by eating a handful of black raisins every day.
Lowers LDL levels:
One of the benefits of black raisins is that they have LDL-lowering qualities. It contains soluble fiber, which has anti-cholesterol properties and helps the body stay healthy by flushing out the cholesterol. Even so, there are enzymes that absorb cholesterol and lower body levels.
Maintains Kidney Health:
It is well known that black raisins can stop kidney stones from forming. It removes toxins from the body and flushes them out. When this technique is combined with drinking plenty of water and the consumption of low-cholesterol foods, the stones are also eliminated. This can work miracles if regularly done.
Heals Acidity Issues
A natural home cure for treating excessive stomach acid production is black raisins. It includes magnesium and potassium, which are understood to control refluxes and calm your stomach. Additionally, you'll have less bloating as a result of gas buildup. In addition, a soaking black raisin can calm a burning stomach.
Strengthening Bones:
Another benefit of black raisins is their ability to support strong bones. One of the main reasons contributing to black raisins' excellent health is their high amount of calcium. The dish contains plenty of calcium as well as the vitamin boron, which the body needs in small amounts but which still needs to be eaten. The health advantages of black raisins cannot be disregarded. It should be consumed daily in small amounts because it is very good for us.
Boosts Energy Levels:
Black Raisins include boosting energy levels and getting you back to being active, many individuals like to eat raisins before going to the gym. Students and working professionals who go outside on a hot summer day will find this to be especially helpful. The body can be instantaneously refreshed by eating soaking raisins.
Anti-Aging Properties:
Black raisins' antioxidant concentration makes them perfect for scavenging free radicals, which cause skin damage and eventually aging. Additionally, it protects against pollution and sun damage, all of which contribute to the appearance of fine lines, wrinkles, and dullness on the face. One handful of black raisins daily is all you need to eat to prevent premature aging.
Prevents Acne:
It's time to start eating some black raisins if you frequently break out in acne. These amazing dry fruits are rich in vitamin C, which can stop pus cells from developing in the body as a result of pollutants. Raisins help in maintaining smooth skin by removing these unwanted materials.
Black Raisins Benefits for Hair Growth:
The iron promotes healthy blood flow to the hair follicles and throughout the body. This guarantees the control of hair growth processes and the treatment of hair thinning. It entirely stops hair loss. It is one of the best advantages to anticipate.
Protects Hair's Natural Black Color:
The benefits of black raisins for hair are amazing. Iron and vitamin C levels aid in the absorption of different minerals and give the hair strands deep nourishment. This not only keeps the hair looking healthy overall, but it also keeps the natural hair color.
CONCLUSION
Now that you are aware of the various health advantages of black raisins, it is time to put them to good use. Consuming them in moderation can support greater health. What are you still waiting for? It's time to gather some black raisins today! Srikanth Industries specializes in providing its customers good quality dry fruits at affordable prices.