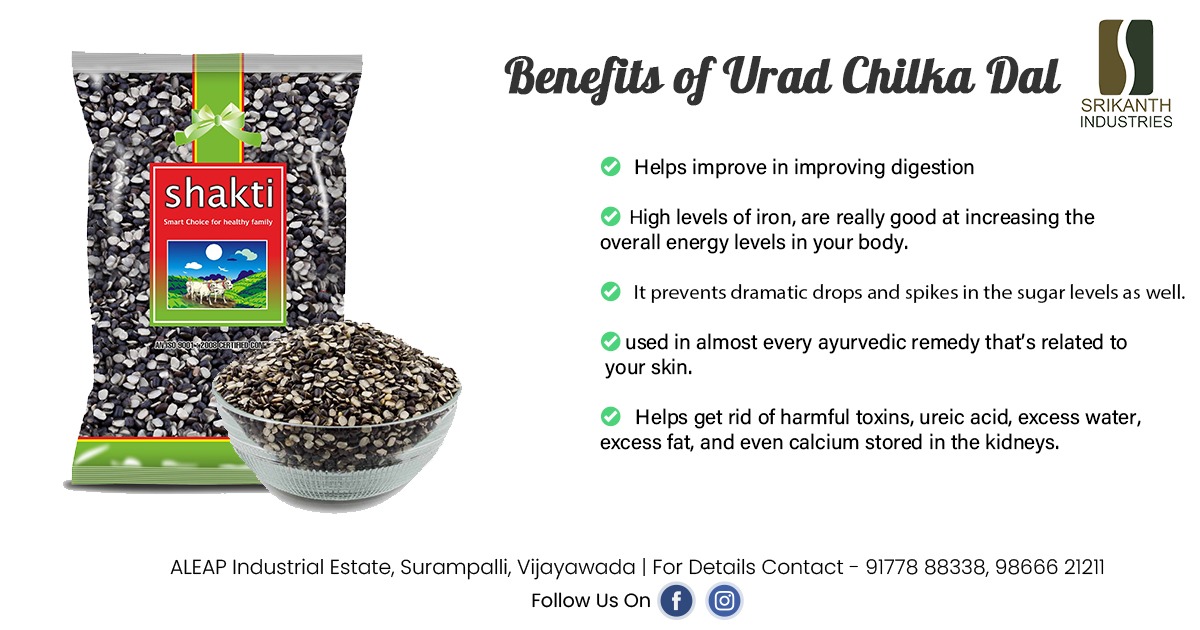 Urad Chilka Dal also known as split black lentils is a necessary ingredient in North Indian cuisine and is regarded as one of India's most valuable pulses. The split beans have a black brown exterior and a creamy white interior. When cooked, they become thick and mushy. When cooked or boiled, the dal keeps its skin and has an unusually gelatinous consistency. One of nature's most health-promoting foods, lentils also improve digestive and cardiovascular health, hormone balance, energy levels, and much more. Antioxidants that prevent aging and cell damage are also found in lentils. While all lentils are recognized to be nutrient-dense and full of health benefits, there is one particular variety that stands out among them in terms of nutritional value and health advantages. Lentils are grown all over the world. You might wonder, which one? Of course, we're referring to the legendary superfood from India known as urad chilka dal, or split black lentil.
Below are the top health benefits of Urad Chilka Dal
It makes digestion better
One of the best health benefits of urad chilka dal is that it contains a lot of dietary fiber. As a result, the digestive tract's stools become more substantial and peristalsis, the stomach's muscles contracting and relaxing to expel waste, is triggered. Thus, this dal might be a helpful addition to your diet to help you if you have any digestive problems, such as diarrhea, constipation, cramps, or bloating. Additionally, it aids in your body's optimal nutritional absorption.
Increases overall energy levels
Urad chilka dal is effective at boosting your body's overall energy levels because they have high iron content. Since iron promotes the creation of red blood cells, it is a vital component of your body. All of your organs receive oxygen due to these cells. Your body's overall energy is increased when your organs receive high levels of oxygen at the appropriate rates. Fatigue, weakness, and even cognitive weakness are some signs of anemia, which iron helps to prevent.
It's good for Diabetes
Maintaining a healthy diet is one of the most crucial things you can do if you have diabetes because it is the only way to monitor and manage the disease. Foods high in fiber are frequently advised to diabetics because they help control the number of nutrients the digestive tract absorbs. As a result, it can aid in blood sugar and glucose level maintenance, making diabetes much easier to manage. Additionally, it prevents dramatic drops and increases in sugar levels.
It benefits your skin
Almost every ayurvedic skin-related treatment contains this dal. It is excellent for minimizing any inflammation on your skin because it is incredibly rich in minerals and vitamins. Additionally, it can help in the removal of blemishes and marks, increase the amount of oxygenated blood flowing to your skin to make it appear vibrant and shining, and aid in the healing and exfoliation of your skin. Additionally, urad chilka dal can reduce your acne, treat sunburns, and remove tans. Overall, this dal is excellent for your skin.
It reduces pain
People frequently use urad chilka dal to reduce pain and inflammation. It is frequently used in the same Ayurvedic treatments. It can increase your metabolism and is rich in vitamins and minerals. Additionally, it aids in reducing oxidative stress. You can get comfort by applying its paste topically to your sore joints and muscles.
It is good for your heart
Additionally, urad chilka dal is very beneficial to heart health. Due to its high fiber, magnesium, and potassium content, it is well recognized to have lots of benefits that can maintain the health of your cardiovascular system. It can bring your cholesterol into balance, which is great for your heart. Additionally, it can prevent atherosclerosis.
Potassium is known to significantly lower blood pressure by easing tension in the arteries and veins. The magnesium included in this dal can aid in stimulating blood circulation, which will increase the amount of oxygen reaching all of your organs. Because of all these impacts, your cardiovascular system is still in great condition.
Diuretic in nature
Urad chilka dal has the benefit of being a diuretic, which stimulates urination. Your body will be able to eliminate harmful toxins, uric acid, too much water, too much fat, and even calcium stored in the kidneys. Because of this, kidney stones may be avoided.
CONCLUSION
As it offers a wide range of health benefits urad chilka dal can be used in your everyday diet plans to maintain good health.
Pulses, Cereals, Dry fruits, Raw spices, Spice powders, and Blended powders are among the extensive range of products we Srikanth Industries specializes in offering to its clients. The ultimate consumers of Srikanth Industries have received high-quality products, and the company works to keep doing so.